School Nutrition
Sussex Montessori provides school meals each day we are in session. Click the link below to see the menu filled with delicious options.
CURRENT MENU
As a public school, Sussex Montessori School participates in the federal free and reduced school meal program.
Please review the information below and submit an application if you believe your family may qualify for this benefit.

Free and Reduced Lunch ONLINE Application
Printable Free and Reduced Lunch Application Form  22-23 (must be mailed to the school)
Free and Reduced Lunch Frequently Asked Questions 
How to apply for Free and Reduced Meals
Paying for Lunch
Children may bring a packed lunch or receive breakfast and/or a warm lunch at school. Parents will need to set up an account for both breakfast and lunch at:  www.k12paymentcenter.com.  Funds should be pre-loaded on your child's account in advance and/or you may bring cash to school to cover your account.  Any cash must be in an envelope with both your child's name and student ID number and your child's teacher's name. Please help your child to memorize their ID number which will be used to track costs.
Breakfast/Lunch Prices:  *Breakfast is served everyday from 7:30am – 8:15am, Monday through Friday
 
Reduced
Full Priced
Extra
Student Breakfast
$0.30
$2.25
$1.75
Student Lunch
$0.40
$3.65
$1.85
 
Adult Breakfast
—
$3.60
$3.00
Adult Lunch
—
$4.00
$3.50
(Prices are subject to change per the USDA)
Public Announcement: Closed Enrollment Site Notification
Important Notice: Tuesday, February 28, 2023 will be the final distribution of Emergency SNAP benefits. As of Wednesday, March 1, 2023 the monthly Food Benefit amounts will return to normal. Please see the information below for information and resources, including the SMS Food Pantry, available to assist those impacted by these allotments ending. (Information also available in Spanish & Haitian-Creole).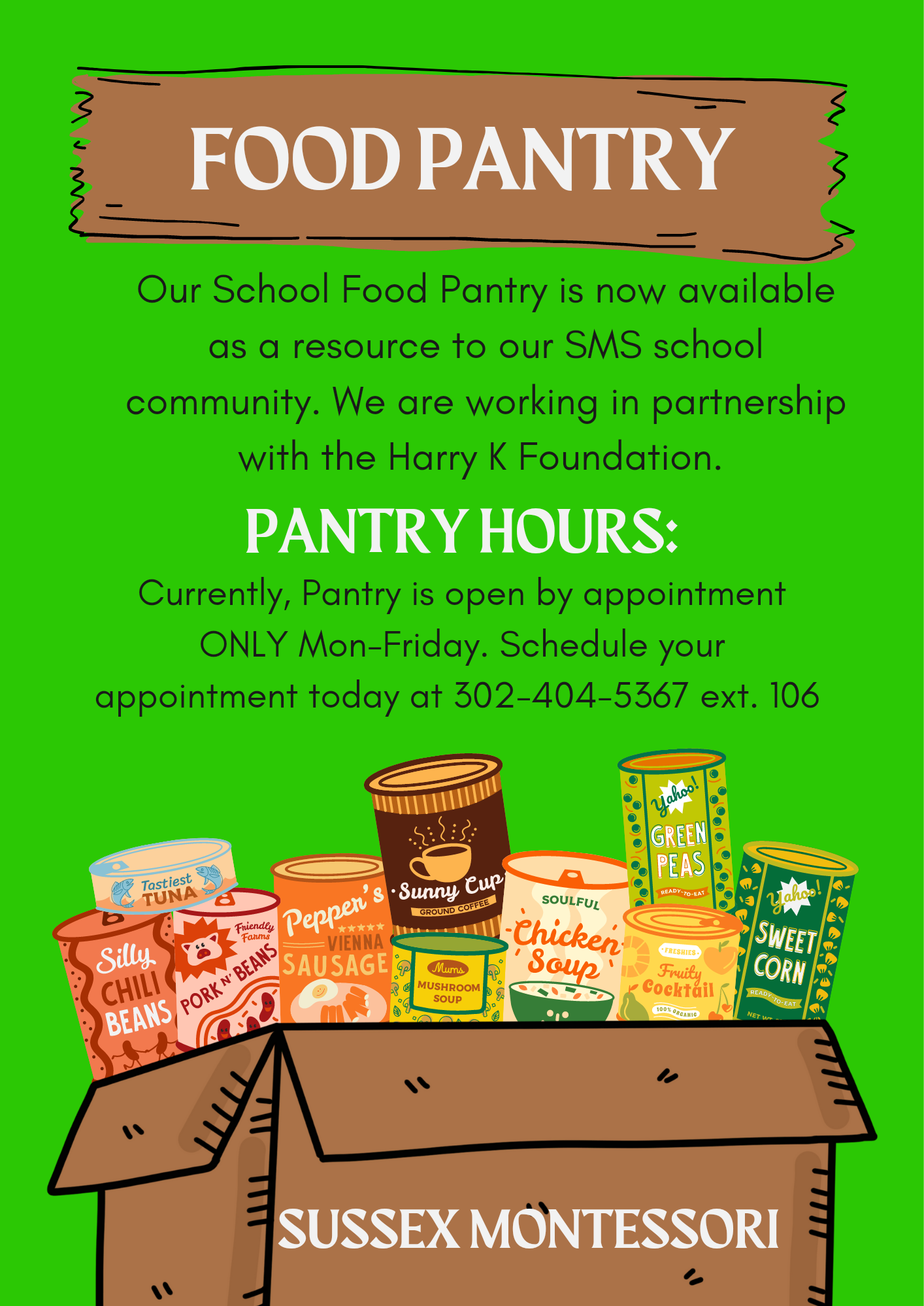 Emergency Food Benefits End March 2023 Flyer_FULL   [Spanish]    [Haitian Creole]
Emergency Food Benefits End March 2023 Flyer_SIMPLE   [Spanish]    [Haitian Creole]
Client Notice: Emergency Food Benefits Ending Mar 1.    [Spanish]   [Haitian Creole]
Free Resources in Delaware  [Spanish]    [Haitian Creole]
SMS Food Pantry Available to all SMS Families
The U.S. Department of Agriculture prohibits discrimination in all its program and activities on the basis of race, color, national origin, religion, sex, gender identity (including gender expression), sexual orientation, disability, age, marital status, familial/ parental status, income derived from a public assistance program, political beliefs, reprisal or retaliation for prior civil rights activity.