Enrollment for Admitted Students
Thank you for choosing Sussex Montessori School! We are excited to welcome our admitted students!
STEP ONE:
If you have received an invitation to enroll for the 2023-2024 school year, please download and print the Certificate of Intent to Enroll found below. You will need to submit this form by March 17th – or within 1 week of your invitation letter – in order to secure your child's seat at the school.  Please note, the Certificate of Intent to Enroll is a binding agreement that secures your child's enrollment for the first year at Sussex Montessori School.
Ways to submit:
Postmarked and mailed to Sussex Montessori School at: 24960 Dairy Lane, Seaford, DE 19973
Scanned and emailed to info@sussexms.k12.de.us
Returned in person to our Main Office
FORMS:
Certificate of Intent to Enroll SMS 2023-2024                Certificación de intención en Español
Already a Sussex Montessori Student?  Please complete the Recommitment Form by March 17th.   SMS Re-Enrollment Form (2023-2024)
STEP TWO:
Upon receipt of the Certificate of Intent to Enroll form, enrolled families may sign up for one of the Spring Welcome Sessions. During the Welcome Sessions, families will have the opportunity to meet school staff, signup for activities, and complete required school registration forms.
Click on the SignUp Genius icon below to sign up for one of our upcoming Welcome Sessions (mandatory) & Kindergarten Assessment (optional).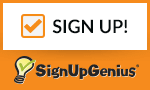 Kindergarten Assessments
Kindergarten Assessments are important and will assist SMS in the preparation and classroom placement of your child. To sign up, please click on the Sign Up Genius icon above and select your time of choice.  For questions about Kindergarten Assessments, please contact Jori Martinez-Woods, Director of Teaching and Learning, at Jori.Martinez-Woods@sussexms.k12.de.us.
STEP THREE:
Families will need to complete and submit the following school registration forms by the dates stated. A packet of these intake forms will be provided at the Spring Welcome Sessions.
Completed forms and documentation can be sent by email at info@sussexms.k12.de.us or via secure mail to: Sussex Montessori School, 24960 Dairy Lane, Seaford, DE 19973.
Required Sussex Montessori Registration Forms –  Please click on form to download file.
Emergency Contact Form
Student Dismissal/Release List
Transportation Contract   (please submit before June 30th)
Photo/Film/Interview Consent Form
Weather Contingency Form
Delaware DOE Home Language Survey
Delaware DOE Agricultural Work Survey
Military-Connected Youth Student Information Update Form 2023-2024
McKinney-Vento Student Residency Questionnaire
Health & Medical Forms 
Delaware Student Health Form (Grades PK-6) / Nemours Child Health Appraisal (for Nemours patients)
Hand Sanitizer & Sunscreen Consent Form
Point of Care COVID Testing Consent Form (form provided by school nurse)
Required Federal Forms to be completed through Online Registration Portal
Required Documentation to be submitted by Parent: (Please submit copies of these documents with your registration forms) – 
Student's Birth Certificate
Proof of Residency (one of the following: signed lease agreement, utility, cable/satellite TV bills within last 60 days.) Service and mailing address must match on the documents.  
Photo ID of Parent/Guardian
Guardianship, Custody or Caregiver papers (any court documents if applicable)
Proof of Immunizations and Physical (physical must have been within the last 2 years. Forms provided by Physician's office)
Emergency Action Plans (from Physician's office)
Copy of IEP (if applicable)
Copy of 504 Plan (if applicable)
Additional Forms & Resources:  (complete if interested/applicable)
Carpool Interest Form
Volunteer Form
Residence Verification Form if requested by school
Do you have additional questions about applications and enrollment?
For questions about the required registration forms / enrollment packet, please call the office at 302-404-5367 or email us at info@sussexms.k12.de.us.   Click HERE for frequently asked questions about Sussex Montessori's application and enrollment process.