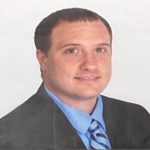 Brett Paul Coldiron (1991-2021)
Our Sussex Montessori family mourns the unexpected loss of Brett Paul Coldiron, son of our Head of School Lisa Coldiron, on April 6, 2021 due to an undiagnosed cardiovascular condition.  Brett, of Okeechobee, FL, was an exceptionally hard-working and gifted athlete and a proud member of the employee-owned Publix Super Markets, serving as manager of the meat department.  His family, including his mother Lisa and father Randy, his brothers Jeffrey and Drew, and his wife Brianna, will miss his beautiful smile and infectious laughter.
As noted in Brett's obituary, Lisa's family has asked that those wishing to remember Brett by supporting a special cause make donations to Sussex Montessori School (see link below) or his local church. To honor Brett and to provide a place for quiet contemplation on campus,  we will rejuvenate the landscaping around the pond adding a bench and trees for shade. This is an area that is particularly special to Lisa. SMS will apply funds donated in Brett's memory to this memorial initially, and will use any funds raised over the cost of the project to enhance the learning environment of the school.
Donors are encouraged to include a note expressing their intention to donate to the Brett Coldiron Memorial fund.
Click on the "Donate" button below, and use the "Write a note (Optional)" feature once you choose a donation amount to enter "Brett Coldiron Memorial Fund."
You may also leave a note of condolence that will be shared with Lisa, if you wish.
Brett Coldiron Memorial Fund