Todays lesson comes from the book The Jelly Donut Difference by Maria Dismondy
Today's Lesson read aloud link- The Jelly Donut Difference
The story today is about donuts! I want you to listen to this story and think about how everyone in the book is feeling.
After you've listened to the story- share your answers to these questions with someone, or write your answers down if you can!
There was so much kindness shown in that book! What did you see? What happened in the book that made Ms. Marvis feel better? Do you think it was the donuts or being invited to dinner that made her feel better?
Acts of Kindness: What you DO to show kindness
Words of Kindness: What you SAY to show kindness
Pick your 6 favorite words on this list and check them (or write them down). Look at the words again ad see if you can find any that are acts or words of kindness. How do you think Ms. Mavis feels when she receives the donuts? What this an act of kindness or words of kindness?
Printable Activity-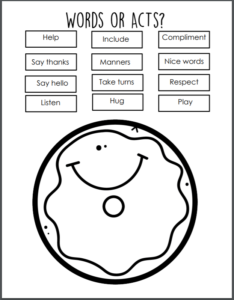 Sometimes, acts of kindness do not require words at all, just the action.
If you can print off the page above, cut out the words you chose and paste them to the donut. You may then color the donut!
Do you think Leah and Dex feel good too, or only Ms. Marvis?
Spreading kindness not only helps the receiver but the giver too! Its a gift to everyone!
Questions? Please email me: april.harmon@sussexms.k12.de.us